Choosing a driveway
---
Which driveway materials should I use?
A driveway is an essential part of every home. A driveway is normally seen in two types. A driveway that leads to the entrance of your home or building and a driveway that leads to the garage.

General Rule
As a general rule, a driveway is responsible for connecting the internal parts of the plot to the main outer road. So vehicular movement is quite obvious. Taking this into consideration the materials selected need to be aesthetically pleasing as well as durable. This will enhance the overall look and value of your property.
What is Tarmac?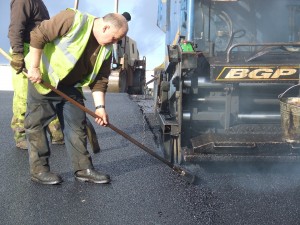 Tarmacadam is a bituminous material used in paving, also known as Tarmac™ or Asphalt. Tarmacadam is comprised of a binder or adhesive, known as bitumen, which is heated and mixed with crushed, graded aggregate. This is then hot-laid, either by hand or machine, compacted and cooled to form a durable, hard-wearing surface.
Tarmacadam is suitable for areas to be used by vehicles, such as roads, car parks, drives and forecourts. Tarmacadam can also be used for paths. In general, whenever possible, all works are machine-laid. Such exceptions include small areas (such as some private driveways), confined spaces and footpaths. On private works, the contractor will decide which is the most appropriate laying method to use.

Brick Paving Driveways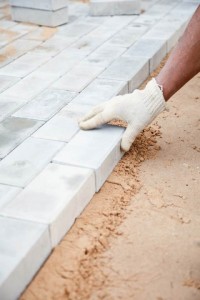 Brick Paving is extremely versatile, the secret is in the interlock which allows any load to be spread over the entire area. The application of a sealant will greatly enhance the appearance of the driveway and ensure that the sand remains in the joints. This keeps the occurrence of wind blown seed growth to a minimum. Brick paving provides a low maintenance surface. An annual topping up of kiln dried sand in the joints and a treatment with a proprietary weed killer is all the driveway needs.
Brick paving can be used almost anywhere. Perfect for drives and patios and will provide many years of service. They can be used to great effect on pathways, patios, courtyards or mixed with other paving types to create a unique feature.
Offering an extensive range of top quality bricks in many colours, patterns, sizes, textures and styles to suit all tastes. From modern to traditional, whatever your desire, there is a design and pattern to enhance the appearance of your driveway.
With a massive range of accessories, from circle features, cobbles, kerb sets and dished channels for those finishing touches, you can use brick paving to create a unique finish to your property.
Why Choose Brick Paving?
It enhances your property
Increases the home value
Numerous colours and patterns available
It is aesthetically appealing
Easy to maintain
Long term cost effectiveness
Durability
For drives, patios and pathways
When investing in your driveway, path or patio it is guaranteed to add value to your property that will far out weigh the original costs.
Brick Paving is a long lasting, long term solution to driveway paving and if properly cared for can last a lifetime.

For contemporary minimalist style with maximum effect, Natural Granite Paving is hard to beat. The colour, straight machine cut/rustic hand-chipped edges, and textured top surface provide a dramatic backdrop to architectural type planting. While randomly laid setts are ideal for borders, driveways or larger patio areas, in either a traditional or contemporary setting.
The granite paving and setts are available in many shades and sizes.

These setts are ideally suited for driveways and hard standings if laid on a suitable sub base. When laid over smaller areas the elements create the illusion of greater space and offer an air of sheer quality to any landscape or interior when real stone is your chosen option.
They also may be used with any type of manufactured paving as border detail, inlay panels, bands and subdivisions within large paved areas.
Suitable for paths and patios this product offers a prestigious finish to any property.

Driveway paving that is at the more expensive end, such as pavers and brick, tend to add on a significant amount to a landscape project. This is because a large amount of paving material must be used on a driveway. Labour costs can also be expensive.
You can create a beautiful driveway design by using a less expensive material, such as coloured chippings, and accenting it with other materials. An outstanding driveway design does not have to include expensive material. After all, it is the entire landscape design itself that is important.